Weddings at Living Waters
Call (512) 348-8889 to schedule a tour.
We believe that Living Waters is one of the most romantic & peaceful places on earth to host your intimate wedding weekend! We know, because we've done it ourselves. Let us help you create a wedding that reflects the beauty of your sacred relationship. Our property is able to accommodate up to 20 overnight guests and the land offers plenty of nature-filled spaces for a truly unique ceremony, reception, & weekend activities. We also offer a list of recommended vendors to help you get started on planning an event in our area.
Wedding packages start at $4,300 and include exclusive use of the property, including all accommodations, and private lake access for two nights plus a bonus 3rd night in our Luxury Straw Bale Home for the bride and groom.
Call (512) 348-8889 to schedule a tour.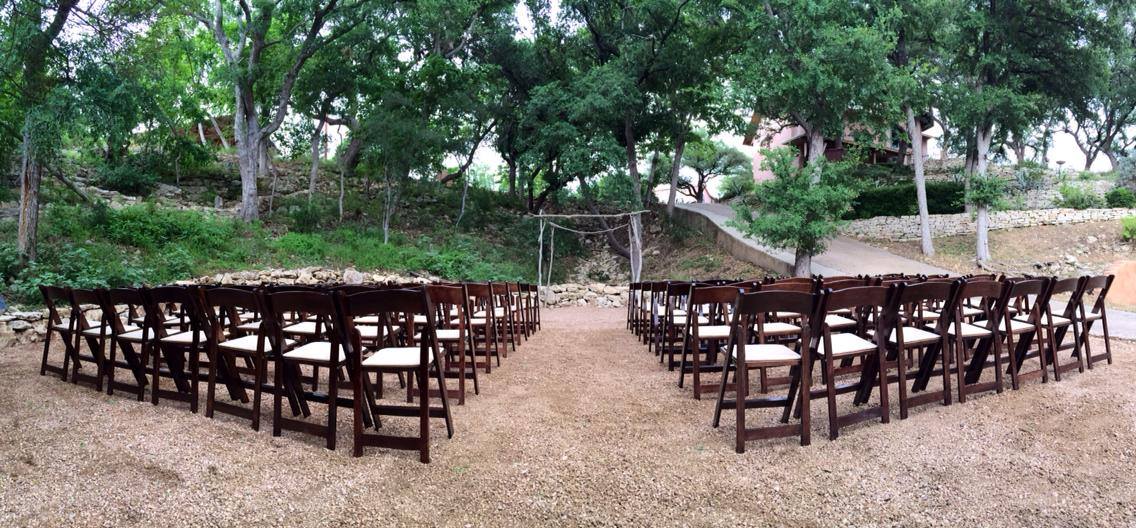 Here's what our past wedding couples have had to say:
"Our wedding held at Living Waters was nothing short of magical. As soon as we stepped through the front gate, we knew we found the venue we'd been looking for. There is a sacred, peaceful, harmonious energy here, along with stunning natural grounds and buildings with unique architecture that is at turns modern, funky and homey (not the typical Laura ashley, kitschy, Texas B&B; that predominates in the area).We wanted a site that would allow for a day-long wedding and reception, as we wanted to spend more than 2 minutes with each of our mostly out-of-state guests. Our preference was to have a place on the water with room for 100 people, but still feel intimate. We desired a space that would accommodate our wedding party for the weekend so we'd have time to connect instead of running around from place to place. We were looking to get married under a canopy of wise old trees. We wanted to choose our own vendors. And we wanted to work with kind, communicative, honest, warm folks. And we didn't want to have to harvest our organs to pay for it.Bethany and Travis Webb could not have been more accommodating. Their love of Living Waters and experience hosting their own wedding on site was invaluable. They recommended local vendors, gave us tips on how to lay out the space and the day. They let us tour the site multiple times for our do-it-yourself planning purposes. Travis toiled to update the pavilion, helped us erect a wedding arch and ensured the grounds looked fantastic. And Bethany saved our behinds by agreeing to coordinate our wedding day at the 11th hour after we were forced to let our coordinator go, and did so with incredible grace, dedication and good humor.We had the wedding of our dreams. A wedding we believe truly reflected us and our union. We cannot recommend Living Waters more highly and are pleased to call the Webbs our friends."
~ Christine & Nathan
"On a beautiful spring morning we were married at Living Waters. We booked the entire facility for the weekend to house our out-of-town friends and family. The atmosphere exudes peace and was perfectly aligned with our vision for the weekend. Neither one of us wanted to obsess over the "typical and expected" wedding day/weekend issues (for example, having every decoration look perfect to within an inch of its life). We wanted a neurotic-free zone, and Living Waters totally delivered—starting with Bethany and Travis. They are completely calm souls. Bethany answered all of our questions promptly. The arrangement of the buildings and grounds allowed for a very private and intimate weekend. We enjoyed the hammocks, native plants and appreciated that it was not an overly-manicured environment—it's an honest, natural setting. Can you tell we despise over-production? We brought food from our favorite trailers in Austin and availed ourselves of the kitchens to store, heat, and serve the food. Everything we needed was there. And throughout the weekend, Bethany and Travis were there if we needed anything. Best of all, after our friends and family left, we were able to stay and enjoy a slow afternoon with the hummingbirds, butterflies, and leftover wedding cake. Living Waters is a remarkable venue that will be in our hearts forever. Thank you for everything."
~ Heidi & Dan
"First of all, this is your dream wedding venue! My husband works for Homeaway, and left me in charge of finding a Homeaway house for our venue. I chose Casa De Joy because it was a perfect property that had everything! I LOVED the beautiful scenery, waterfall going from the top of the property to the lake, perfect path to walk down the isle to a porch overlooking the lake, it also had a dance floor, perfect space for dinner tables, plenty of sleeping accommodations for our bridal party, awesome music system that was played all thru the property (even in the rock steps along the side of the waterfall), beautiful sunsets, and then Bob and Page are just the sweetest, most helpful homeowners! When we first went to the property to check it out before finalizing, my first steps onto the property took my breathe away. It was so beautiful and fantasy like. As an Event Planner, the property generated so many creative juices to flow with ideas! The possibilities are endless. And with such amazing property owners, they really wanted to make sure I had the wedding of my dreams, and they did everything in their power to ensure my day was perfect! It was a small 25 person wedding, and everyone who attended was blown away! It's a property that speaks for itself, and you really don't have to do too much decoration to make it look like the perfect wedding venue. Whether your wanting to stay here for a Wonderful Wedding Weekend, or your vacationing with family, Casa De Joy is the most peaceful, yet fun retreat you can ask for! You will leave feeling refreshed, peaceful, and in complete bliss (especially if you get married out here)!!! It had multiple little houses that my bridal party stayed in, and it was so Austin, and so much fun! I seriously couldn't have asked for anything more perfect than this property. I really enjoyed every second, and I have so many special memories from my wedding because of this property! Thank you so much Bob and Page for helping to ensure those special memories and letting me use your beautiful property! And to anyone who might be considering this property for a wedding, or vacation….just stop looking now. This property is everything you can ask for and so much more! It really doesn't get much better than this! 110% Satisfaction from my experience!"
~ Allison